2020 has come to pass, and the seeds of change have begun to sprout throughout most industries. One industry in particular – the practice of law - may see the greatest change since the establishment of the "Cravath System." The COVID-19 pandemic pushed the legal industry to accelerate the adoption of technology in order to continue providing legal services in a safe and secure safely. As more consumers move completely to digital, and as technology use in law continues, the legal industry will discover technological adoption increases profitability, improves the client experience, and provides the ability to access data, expand collaboration efforts, and coordinate resources at anytime from anywhere – all while strengthening data security and risk management.
Born out of necessity, there are the three areas of technology that are certain to expand the legal landscape.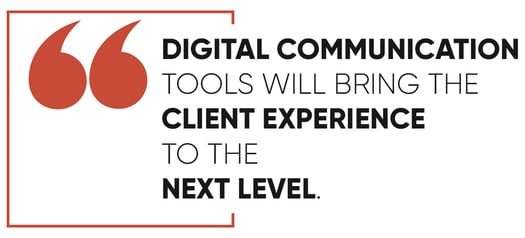 THE CLOUD
Law practices throughout the country discovered Cloud usage was essential for business continuity in 2020. Its very nature provided the legal industry a central location for managing cases, tracking time, and streamlined billing. Cloud hosted services provide software and shared data storage, giving each employee the ability to work and obtain valuable data regardless of location.
The coordination of resources within the Cloud increased efficiency and has allowed firms to make better decisions on how to improve productivity and cash flow.
As Cloud usage has shown the legal industry that remote work is a viable business model, firms and practices are leveraging technology in their talent and hiring strategies. The result has been transitioning from fixed-location candidates, to finding the best talent virtually around the globe. This expanded talent pool is allowing firms of all sizes to promote diversity, equity, and inclusion firm-wide as well as the ability to practice law with distinction within Micro Niches.
COMMUNICATIONS
Transitioning to a remote workforce catalyzed the need to modernize communications within the legal industry. Updated phone systems, like 3CX, have allowed firms to communicate both internally and externally just as if they were in the office. Digital communications have created a fully connected workforce with the ability to track who has received and engaged with exchanges.
Streamlined HR processes already expedite and improve onboarding new hires while digital communication tools like video conferencing, and remote meetings and depositions will bring the client experience to the next level.
AUTOMATION – THE USE OF ARTIFICIAL INTELLIGENCE (AI)
Perhaps the greatest impact in the legal industry will be the use of Automation with Artificial Intelligence (AI). As courts re-open and COVID-related litigation emerges, data will explode. Legal practices utilizing AI will have the competitive edge in 2021. The automation process will dramatically increase the efficiency of:
Due Diligence

with results achieved 90% faster than if done by humans
Document Drafting completed within minutes rather than days
NDAs, Patent Applications, Document Reviews, and Transcriptions executed in record time with a 99.9% accuracy rate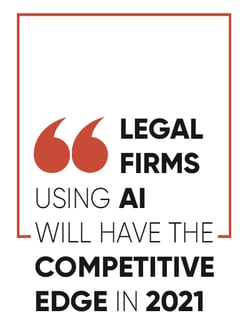 Automation will profoundly affect profitability, the client experience, employee satisfaction and retention, and allow lawyers to spend more time practicing law. Automation benefits the legal industry and consumers, making practices more profitable while reducing costs passed onto clients.
As law offices and firms embrace the value of technology and strive to improve its use in 2021, hesitant practices will be pressed to either adopt its use or fight to stay alive. This year will begin to reveal a new evolution of legal industry's business model through the use of Cloud Technology, Automation and AI, and updated Communications creating a more efficient, productive, and cost-effective way of practicing law.