Cybersecurity Manager, James Keeler, Earns Certified Information Security Systems Professional (CISSP) Certification
Rochester, NY, November 19, 2019 – James Keeler, Cybersecurity Manager, LMT Technology Solutions, has earned the Certified Information Security Systems Professional (CISSP) Certification granted by (ISC)2. CISSP certification is one of only three certifications that meet Department of Defense requirements for several high-level information security positions; and is used as the baseline for the National Security Agency-developed ISSEP program. James joins an elite group of information security professionals who have demonstrated a dedication to higher standards of practice in cybersecurity.
The certification requires the ability to demonstrate not just knowledge, but good judgement in the application of security principles across eight security domains:
Security and Risk Management
Asset Security
Security Architecture and Engineering
Communication and Network Security
Identity and Access Management
Security Assessment and Testing
Security Operations
Software Development Security
To become a CISSP certificant, James Keeler met requirements in three areas:
Experience – At least five years of work experience in two or more of the eight domains of the (ISC)2 CISSP Common Body of Knowledge
Knowledge – Pass the CISSP examination
Endorsement – Attestation by an active (ISC)2 certified professional in good standing of James' professional experience and good standing in the cybersecurity industry.
"LMT is proud to have this caliber of talent and knowledge on staff," says LMT Vice President, Alma Vieru. "James and our cybersecurity team are here to help Rochester area businesses develop a stronger resilience against the ever-changing and evolving cybersecurity threat landscape."
"Holding a CISSP certification proves to businesses and fellow information security professionals that James is an accomplished practitioner of industry-standard information security principles," adds LMT President, Mihai Vieru.
LMT Technology Solutions is a Rochester-based IT company serving small and medium-sized businesses. LMT offers Managed Services, Business Solutions, Managed Security, Cloud Computing, Risk Management, and VoIP Telephony.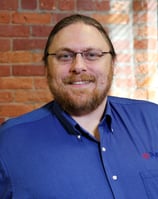 James Keeler, CISSP