Many years of membership and engagement with the Western NY chapter of the Association of Legal Administrators (ALA) prompted LMT to attend the 2019 ALA Annual Conference & Expo in Grapevine, TX. The ALA gathering assembles legal management and administrative staff, including single attorney offices and large law firms, from across the U.S. to learn and network around the latest legal trends in technology, HR, billing, and more. Cloud computing, disaster recovery, and compliance were hot topics among attendees and speakers.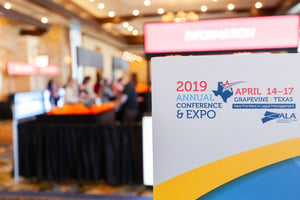 LMT has noticed a shift in the legal IT landscape as more law firms are moving to the cloud, opting for a secure and reliable environment like LMT's private cloud, an SSAE 16 SOC 2 certified environment. Why now? The legal industry has long had its apprehensions about moving classified and confidential information to the cloud, often due to the misperception that it isn't as secure as on-premise. However, more law firms are realizing that Private Cloud Computing offers both storage and security benefits for day-to-day usage and redundant backup options.
In the legal space, which is heavily document-dependent with little tolerance for downtime, disaster recovery and business continuity were among top IT concerns for legal professionals we met at the event. The continued operations of a firm depend on its ability to replicate IT systems and data. In the event of a disaster we find that too many firms aren't adequately prepared with a solid plan and backup system. We believe that a sound Disaster Recovery (DR) strategy is a low risk, high reward solution for these firms. Set-up, costs, and maintenance are minimal for the law firm, and the peace of mind in the event of a hurricane, tornado, or other catastrophic event provides a sense of security – data and docs are ultimately safe and accessible.
Other popular topics at the ALA conference were compliance regulations and document management. GDPR (General Data Protection Regulation) dominated compliance conversations, primarily as more U.S. states are expected to follow California's lead. The GDPR mandates that organizations handling personal information belonging to European consumers take measures to protect personal data from security breaches and must have the ability to quickly restore data availability – this is where the Disaster Recovery strategy comes into play. While many law firms are concerned about the looming compliance regulations, it's also apparent that at the end of the day, GDPR reinforces measures that should be standard in any organization.
As expected, the event was saturated with document management companies as more and more law firms are going electronic with their documentation. The LMT team was delighted to meet and network with several document management vendors, including:
Now that our bags are unpacked and we're back in Rochester, we're excited to build new relationships with the attendees and vendors we met and, of course, continue to help our clients leverage technology, manage complexities, and transform problems into solutions for all their IT needs.