President Biden's March 21 statement on cybersecurity urged private sectors to take immediate action on shoring up their defenses against potential cyberthreats in response to recent cyber attacks between Russia and Ukraine and the current intelligence coming from the U.S. Government. This is the latest and most urgent warning we have seen yet, following a series of regular reminders to implement robust cybersecurity measures since the fall of 2021.
Considering the target is towards the United States' defined critical infrastructure, organizations must implement the various safety requirements to protect their data and systems.
LMT expects, and has already witnessed, an increase in cyberattacks. We assure you that LMT has already implemented enhanced security protocols for our Managed Services clients in response to the potential for increased attacks, including:
Enhanced security checks in our spam filter
Reinforced Office 365 platform security settings
Strengthened security protocols to firewalls from known bad-actor geo locations
The U.S. has "evolving intelligence" that the Russian government is "exploring options for potential cyberattacks," President Joe Biden said in a statement on Monday. "It's part of Russia's playbook," Biden said.
The President also called on private sector companies to "harden your cyber defenses immediately" with measures such as multi-factor authentication, security awareness training, up-to-date security software and tools, secure data backups, and routine training drills.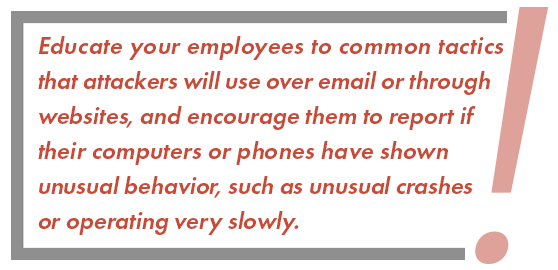 "To be clear, there is no certainty there will be a cyber incident on critical infrastructure," White House deputy national security adviser for cyber and emerging technology Anne Neuberger told reporters during a briefing on Monday afternoon. "So why am I here? Because this is a call to action and a call to responsibility for all of us," she said.
Boards to Approve and Fast-Track Security Spending
To mitigate threat tactics put forth by CISA's "Shields Up" will require boards to approve and fast-track spending for products and services not already implemented.
Some of the items that are the quickest return on investment and implementation time would be reviewing incident plans and recovery strategies in the event of an attack. Review and mitigate risks to external facing systems and verify they are fully patched and current on all security updates.
What You Need is a Robust Security Culture
The most impactful will be to ensure employees receive education, know the latest attack methods, and be vigilant on all unexpected emails requiring any urgency for action. Security awareness training is essential, and it's the first step towards having a robust security culture for the users and the organization's overall cyber resiliency.
An organization with a strong security culture is 52x less likely to provide credentials to cybercriminals unsuspectingly, exposing the organization to unnecessary brand reputation, loss of revenue, or data loss.
Users with security top of mind enable them to identify suspicious emails and report them to reduce the risk of further door openings for cybercriminals to gain entry to systems, networks, and data quickly.
HOW LMT CAN HELP
KnowBe4 Security Awareness Training
Ongoing training will be provided to establish and sustain an effective human firewall of informed phish-savvy employees.
Microsoft 365 Hardening
Out of the box, Microsoft 365 has security gaps that LMT can strengthen by enacting policies such as: enforcing MFA, restricting auto-forwarding, deployment of Threat Management, enforcing password policies, and other hardening practices.
vCISO Services
Receive CISSP managed guidance on regulatory requirements, compliance requirements, long-term security strategy, program and policy design, as well as any other high-level security guidance and execution.
LMT Cyberguard Services
24/7/365 Managed Detection & Response (MDR) Service, vulnerability scanning, plus a fully managed Security Information and Event Management (SIEM) service monitored by Armor point and managed by LMT.
Stop, Look, and Think. Don't be fooled.
The KnowBe4 Security Team and LMT Technology Solutions